A glorious fall adventure awaits in the Brandywine Valley
Follow our suggestions or choose your own path - and pumpkins!  
Friday October 20  Check into cozy accommodations many of which offer special Longwood Gardens untimed tickets - more about that to come. 

(Images from left to right) Inn at Whitewing Farm B&B, Kennett Farmers Market, The Kennett Creamery
Stop by Kennett's Farmers Market located at The Creamery of Kennett Square. The Creamery a unique community gathering space to enjoy food, beverages, and lots of fun. The market opens at 3pm and runs until 6pm. The Creamery opens at 4pm – enjoy cocktails around a fire-pit and delicious local fare. Did we mention to bring a cooler – to those guest driving in? You'll want to fill up on regional specialties that may require storing.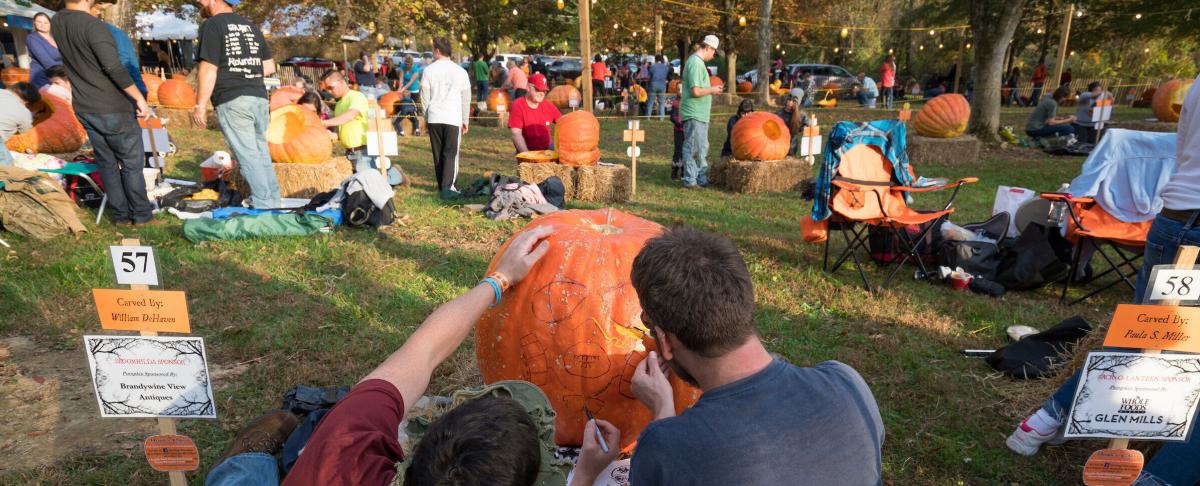 Chadds Ford Pumpkin Carve 
Tonight, it's off to The Great Pumpkin Carve at Chadds Ford Historical Society. This three -day annual tradition takes place October 19-21, 2023.  Watch as over 70 local artists carve giant pumpkins. The pumpkins will be lit after the carving is completed and then displayed all three nights-Thursday, Friday, and Saturday. Treat yourself to great food and fall treats offered by area eateries; enjoy live music, craft breweries and wineries, and a haunted trail.
---
Saturday October 21 Today is all about hayrides, pumpkins, apples, amazing treehouses, and the most glorious garden imaginable.
Start out this morning at Highland Orchards where fresh apple cider donuts are the perfect way to start the day! Plan a hayride and pick your own apples and the best pumpkins for carving or pie-making.

(Images from left to right) Highland Orchards, Treehouse World, West Chester Railroad
Then it is off to explore treehouses and trains: Visit Treehouse World  for exciting adventures such as ziplining, tree-climbing and a bungee trampoline!
Take a 90-minute train ride through the glorious countryside on West Chester Railroad's Fall Foliage Express.  Book rides at noon or 2pm.  PS – if you don't catch the train today, they run on Sunday as well.
Explore the town of West Chester for shopping and a delicious meal.

Tonight, revel in the splendor of Longwood Gardens. Experience the vibrant hues and the crisp, fresh feeling of a new season during the Chrysanthemum Festival. Surround yourself in the painted landscape and wide-open vistas, feel like a kid again with the playful Garden Railway, and marvel at a world of chrysanthemums. Don't miss the final fountain performances  - tonight's is new for 2023, "Put Me in, Coach." Celebrate with iconic themes from favorite sports movies from Eye of the Tiger and Gonna Fly Now to We Will Rock You!
Book accommodations that include untimed tickets to Longwood Gardens here.
---
Sunday October 22
Shop and dine in Kennett Square – the Mushroom Capital of the World! The region produces over 60% of the nation's crop, hence the title,
so a visit to The Mushroom Cap and The Woodlands at Phillips is a must.
(Images from left to right) Mushroom Cap, Woodland at Phillips, The Clover Market
Regional favorite, Clover Market, takes place in Kennett Square on Sunday October 22 from 10am -4pm. It's never too early to shop for special holiday gifts and Chester County's Brandywine Valley is the perfect place!