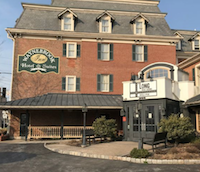 The Waynebrook Inn
4690 Horseshoe Pike
Honey Brook, Pennsylvania 19344
Whether this is your first visit or you have been a guest many times, we
want your experience to be excellent. It is definitely a unique and rare experience.
We offer a variety of amenities to make your stay with us as comfortable as possible. There is cable in every room, we provide free WIFI access and a complimentary continental breakfast.
Amenities
ADA Accessible

Yes

Baggage Handling

No

Baggage Storage

No

Buisness Center

No

Complimentary Breakfast

Yes

Fitness Center

No

Full Service Restaurant/Bar

No

Group Rates

No

In Room Coffee and Tea

No

In Room Dining or Room Service

No

In Room Refrigerator

No

Laundry Facilities

No

Local Shuttle Service

No

Marketplace Items

No

Parking Free

Yes

Parking Motorcoach

No

Pet Friendly

Yes

Pool Indoor

No

Pool Outdoor

No

WiFi Free

Yes