Keryn Means from WalkingOnTravels.com gives us a few more reasons to head to Longwood Gardens this year in Kennett Square, PA. 
Photos by Walking on Travels
The sun had set and we were in our seats. As the excitement mounted, the chatter died down to a hush. The Illuminated Fountain Performance was about to begin. No one wanted to miss a single flicker of light, note of music or pop of water. After all, nothing says summer in the Brandywine Valley quite like a visit to Longwood Gardens. 
Growing up in Philadelphia, it was a special treat to visit the home of Pierre S. du Pont. I had no idea who the man was, but he sure knew how to build a garden. As I got older, married a man from West Grove, PA, just down the road from Longwood, the gardens became a tradition for our family. Every Christmas we still pop into the Conservatory to check out the holiday display and wander the grounds to see the lights. My boys drag their feet to the car, knowing mom is getting her way. However, once we are at Longwood, I can't drag them out. They remember how much they love the Indoor Children's Garden, cactus room and Christmas trees decorated by area school children. 
While the holiday season holds its own magic, summer is when Longwood Gardens really comes to life. Fountain performances, concerts, fireworks and the beer garden all give families and friends a few extra reasons to take advantage of the extra daylight hours to be outside, enjoy the blooms on display, and soak up a man's vision when du Pont bought the property in the early 1900s. 
>> READ MORE -  "15 Must-Have Experiences At Longwood Gardens When You Visit This Year"
---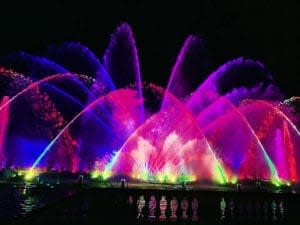 Photos by Walking On Travels
Looking for Accommodations near Longwood Gardens?
CLICK HERE
---
---
CHECK OUT RELATED BLOGS FOR LONGWOOD GARDENS
---