Covered bridges line the countryside of Chester County's Brandywine Valley. A drive through the region to view and photograph these charming bridges is a safe and fun activity. The ride outlined below is laid out geographically; a convenient map can be found at the end of this post. Bridges are numbered per their location on the map.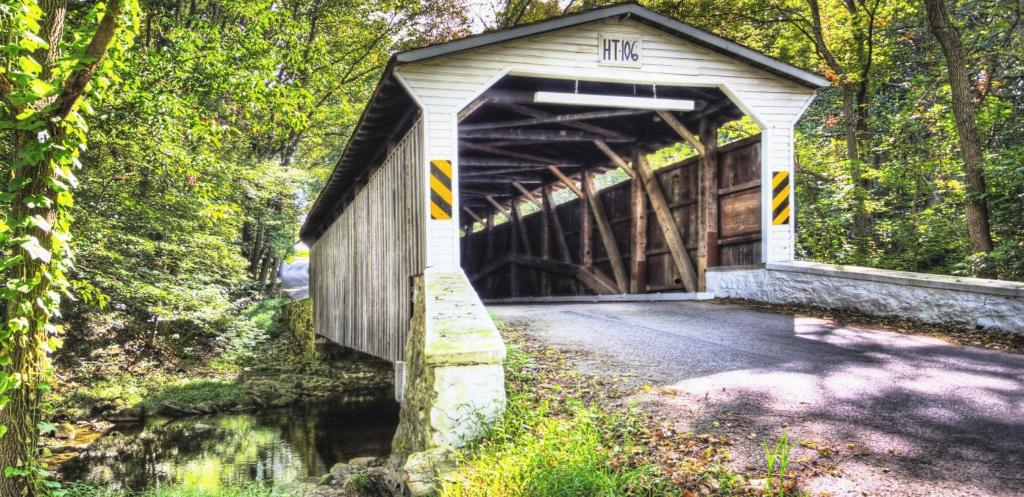 Glen Hope Covered Bridge
Start the covered bridge trail at the southern end of Chester County with Glen Hope (4), located only ½ mile from the Maryland –Pennsylvania boarder (the Mason-Dixon Line). Glen Hope was built in 1889 and spans the Little Elk Creek.
Note: Rudolf & Arthur Bridge (1) was destroyed in a 2023 flood.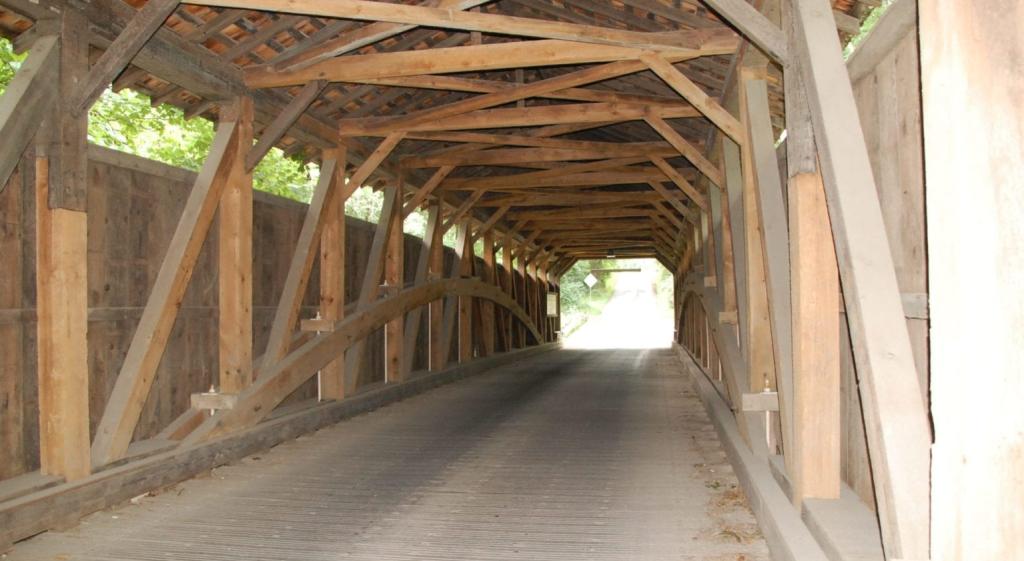 Linton Stevens Covered Bridge
Next visit Linton Stevens Bridge (2) which originated as a small footbridge. At the time it was constructed (1880's) Linton Stevens was a local postmaster and the bridge was named in his honor.
Finally explore the two bridges that straddle Chester County and Lancaster County. Pine Grove Bridge (3) is named for the nearby grove of pine trees. Built in 1884, the 205 foot two –span bridge crosses the Octorara Creek and was a primary route between New York and Washington in the late 19th century. The second bridge connecting Chester and Lancaster counties is Mercer's Mill (6). This bridge was named for Captain John Mercer, a farmer and mill owner on the Lancaster side of the bridge. Mercer Mill is very distinctive in its bright red color against the rolling hills surrounding it.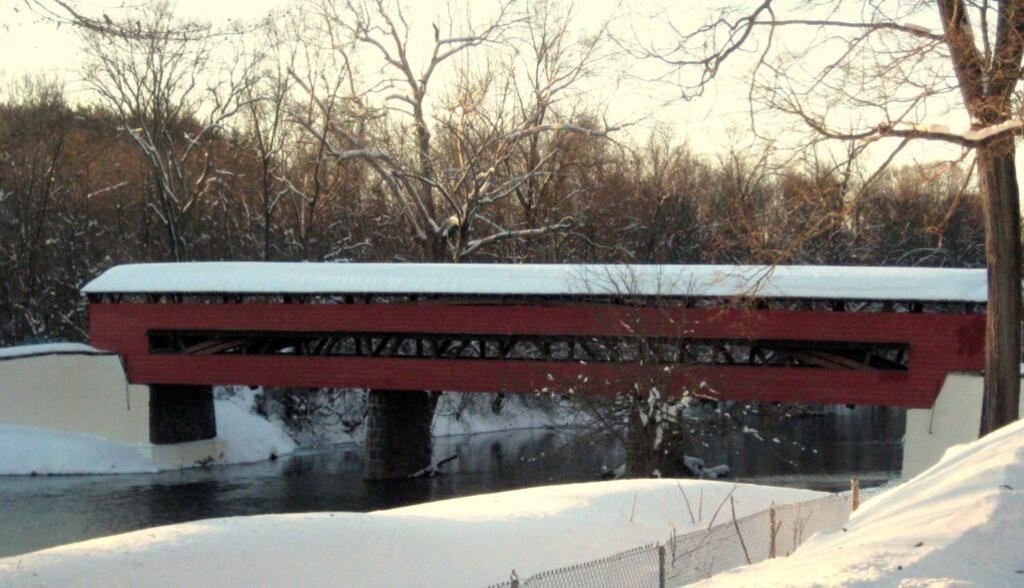 Smith Bridge
Visit neighboring northern Delaware to see the beautifully rebuilt Smith Bridge (5). Arsoned in 1961 and replaced with an open span, Smith was a "lost treasure" for 40 years. The new Smith Bridge was rebuilt in 2002.
Next visit Speakman Bridge (7), built in 1861, named for Jonathan Speakman, who ran an area grist mill. Continue north to Harmony Hill Bridge (8), another of Chester County's three white bridges, with a unique "stepped" portal. Harmony Hill is also known as Gibson Bridge and spans the beautiful Brandywine Creek. 
The next bridge, Bartram (9), is shared with neighboring Delaware County. Bartram Bridge is for viewing only, in that it is closed to any traffic with locked gates.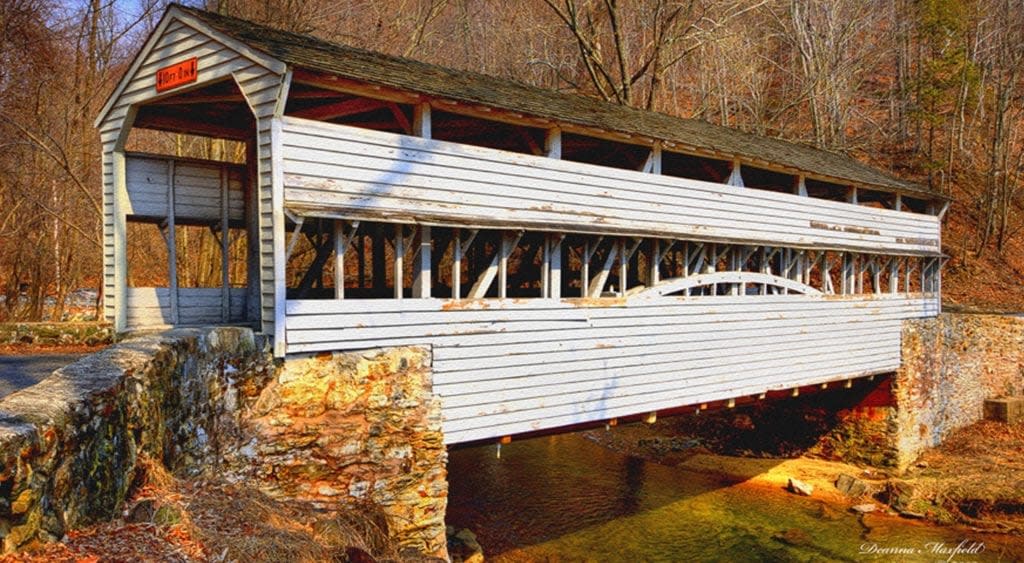 Knox Bridge in Valley Forge
Finally travel to beautiful Valley Forge National Historical Park to visit Knox Bridge (10). Knox is Chester County's most famous and most photographed covered bridge. The bridge is named for Philander C. Knox, who served as U.S. Senator, U.S. Attorney General, and U.S. Secretary of State in the early 1900's and lived nearby.
Northern Chester County is home to four covered bridges. Begin at Larkin Bridge (11), named for Jesse Larkin, owner of a grist mill not far from the bridge. Larkin's has been relocated from its original site and is today a pedestrian – only bridge.  
Continue on to Sheeder-Hall (14), Chester County's oldest covered bridge, built in 1850. Named for two well-known families that lived near the bridge, Sheeder-Hall also has the distinctive "step" portals as do Gibson and Kennedy bridges. 
Move on then to see picturesque Kennedy Bridge (13). This bridge was rebuilt in 1987, after being destroyed by a fire the previous year. Bongossi wood from Africa was used in rebuilding the bridge. This very dense wood resists fire, moisture, decay and insects.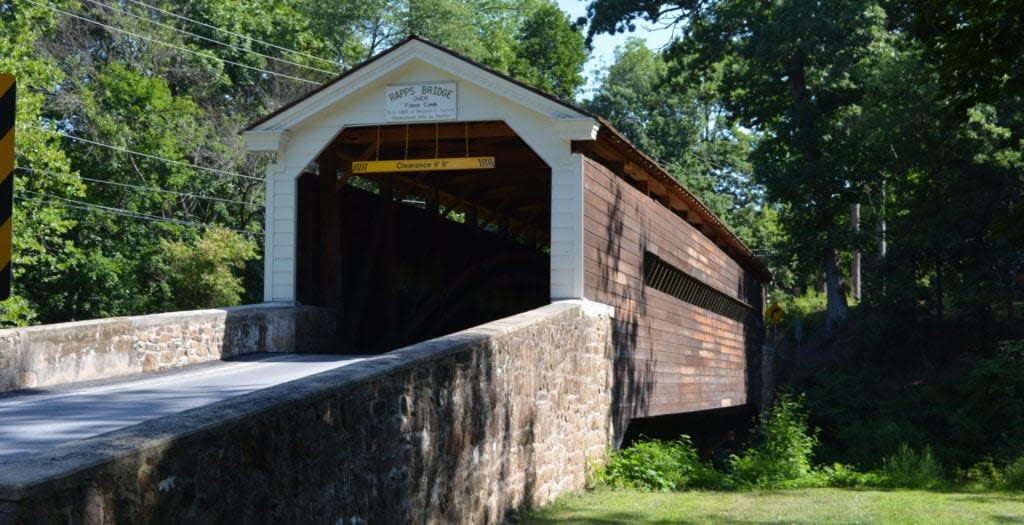 The last bridge winds back toward the historic Phoenixville area, site of the Rapp's Dam Bridge (12). The bridge spans French Creek and was named for the Rapp family who operated a sawmill and grist mill on the south side of the bridge.
____________________________________________________________________________________________________