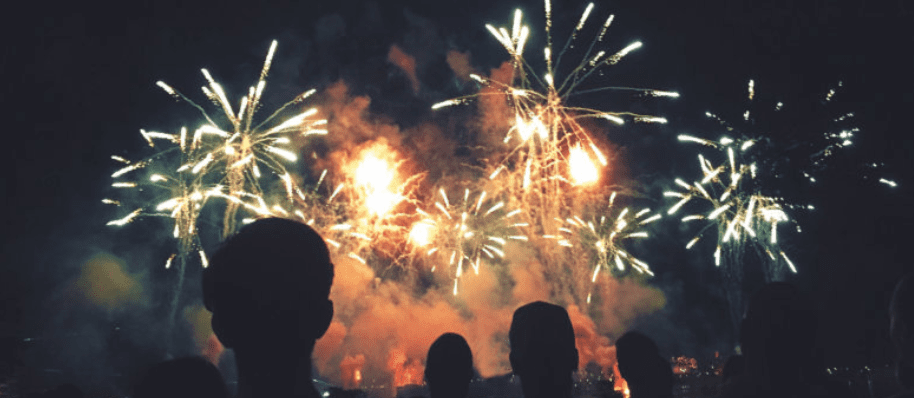 Independence Day is a time to celebrate America's Birthday and a chance to get together with family and friends. Watching Fourth of July fireworks is one of the many highlights to celebrating, so here are a few events happening next week in Chester County's Brandywine Valley.
Thursday, July 4th, 2019 – 8:00 AM to 9:30 PM – Park Ln, Kerr Park, Downington, PA
Good Neighbor Day is a day-long event that starts with the Run for Life (5K in 2019) and 5K Freedom Walk at 8:00 a.m. Approximately 1,500 athletes participate each year. Throughout the day you can enjoy fabulous food, visit 80-100 craft exhibitors or simply enjoy one of the many activities scheduled for the day. The day is capped off with a Fireworks Grand Finale that starts at dusk.
Thursday, July 4th, 2019 – 9:15pm – Friendship Field, Phoenixville, PA
The fireworks display is scheduled for approximately 9:15 – 9:30 p.m. when the skies are sufficiently dark to enjoy the show. The public is encouraged to bring lawn chairs or blankets after 6 p.m. Vendors will provide cold refreshments, funnel cakes, french fries, and other snacks. Have a safe, happy 4th of July and enjoy the show!
Saturday, July 6th, 2019 – Dusk – Minch Park, Parkesburg, PA
A fun filled, family friendly day of live music, great food, local vendors, games, community fellowship and FIREWORKS at dusk!
See the night sky in a new light with our astonishing Fireworks & Fountains Shows. Fireworks fly, fountains dance, and music sets the tone during these captivating evenings.
Star Spangled Spectacular—July 3 at 9:15 pm
Well-known patriotic music abounds as we celebrate America, featuring such songs as The Olympic Fanfare, The Winds of War, The Stars & Stripes, and more.
MORE FIREWORK PERFORMANCES AT LONGWOOD GARDENS
The Piano Men—July 20 at 9:15 pm
From Tiny Dancer to Uptown Girl, our fireworks soar and fountains sway to the iconic sounds of two of the greatest artists of all time—Billy Joel and Elton John.
Swan Lake—August 10 at 9:15 pm
Tchaikovsky's beloved ballet takes new flight in our graceful rendition of this poignant story of metamorphosis, romance, and tragedy.
Night at the Movies II—September 1 at 8:15 pm
You loved Night at the Movies … now get ready for the sequel featuring a whole new lineup of silver screen hits from The Greatest Showman, Footloose, Slumdog Millionaire, and more.
Queens of Soul—September 28 at 8:15 pm
Ain't No Mountain High Enough to keep us from celebrating legends like Aretha Franklin, Diana Ross, Gladys Knight, and more in this incredible, soul-stirring tribute.