Discover the best of the Brandywine Valley on a scenic drive through Pennsylvania and Delaware, using this great article shared by U.S. News & World Report.
"The Brandywine Valley National Scenic Byway has so many mansions it's been dubbed "Chateau Country," so many gardens that it's part of "America's Garden Capital" and, of course, a fascinating history. George Washington's troops fought here, the du Ponts founded their company and dynasty here, becoming one of America's wealthiest families, and three generations of Wyeths painted here. The area owes much to the du Pont family, whose slogan could be "better living through philanthropy." And driving along a picturesque 12-mile route of the Brandywine Valley is rich with lovely gardens, interesting museums and storied estates. Here are seven can't-miss stops for a road trip to remember.
Winterthur Museum, Garden & Library Winterthur, Delaware
Winterthur Museum, Garden & Library is often called "America's Downton Abbey" and the "Crown Jewel" of Brandywine Valley. The spectacular 175-room, 1,000-acre estate of collector and horticulturist Henry Francis du Pont houses one of the finest and largest collections of American decorative arts with 90,000 objects. You can arrange customized tours focusing on your special interests like ceramics including 66 pieces of George and Martha Washington's Society of Cincinnati dinner set, or Chippendale furniture, H.F. du Pont's favorite style. Barbra Streisand was so impressed by its collection of early American general stores that she replicated one of its storefronts in her Malibu, California mansion. Anita Stein, a Winterthur guide for 37 years, says "I try to pretend I live here. It's so gorgeous." For a stay to remember, check into the former Winterthur property in The Inn at Montchanin Village, owned by a seventh-generation du Pont family member.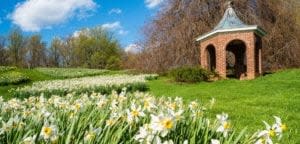 Winterthur Museum, Garden & Library
The Inn at Montchanin Village Montchanin, Delaware
Montchanin Village, a quaint hamlet on the National Register of Historic Places, was established as a settlement for workers at the nearby du Pont Gunpowder Mills, the beginning of their fortune. The 11 buildings, dating back to the 1700s, include four renovated original cottages for DuPont and Winterthur workers. The village blacksmith shop is now the inn's restaurant Krazy Kat's, offering Nouvelle cuisine amid whimsical portraits of cats and dogs in military regalia.
Nemours Estate Wilmington, Delaware
Alfred I. du Pont's opulent Nemours Estate, named for the family's ancestral home in north-central France, covers 300 acres, including North America's finest and largest French-influenced formal gardens. The 77-room 1910 mansion was inspired by Versailles and that regal era is recreated in this Gilded Age showplace, where you'll find a lobby graced by a large musical clock believed to have been made for Marie Antoinette. Paintings by masters, including Brueghel the Younger, Lucas Cranach, George Romney and Sir Joshua Reynolds, are just a few of the artistic treasures spanning more than five centuries. Eclectic items are displayed throughout, from one of the rarest musical instruments, a guitar-strung lyre, to a crocheted poodle. The estate's magnificent gardens feature a colonnade, a large reflecting pool, a neoclassical temple of the goddess Diana, and a gilt statue entitled "Achievement." Don't miss the Chauffeur's Garage with its rare vintage Rolls-Royce cars and a 1921 wooden-bodied Cadillac. But the industrialist's greatest legacy is next door, the Nemours/Alfred I. duPont Hospital for Children, which was made possible through his 1935 bequest. "It is the flagstone of what has become America's largest integrated pediatric health care system, treating hundreds of thousands of children each year," says John C. Rumm, executive director of the Nemours Estate.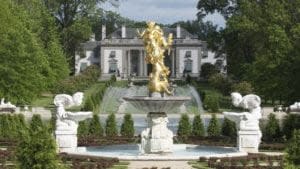 Nemours Estate
Hagley Wilmington, Delaware
Hagley is where the DuPont Company legacy began more than two centuries ago. Pierre Samuel du Pont de Nemours, an adviser to King Louis XVI, twice escaped a guillotine sentence and fled from revolutionary France, arriving in America in 1800. Here, Pierre established their home and his son E.I. du Pont founded a gunpowder works. Touring Hagley shows how the du Ponts became one of America's richest families, as their gunpowder enterprise grew and eventually developed into DuPont, one of the world's largest chemical companies. Its original slogan "Better Living Through Chemistry" was based on numerous inventions including rayon, nylon, Teflon, Lycra and other materials used in NASA space suits and NASCAR race cars.  During your visit, make sure to watch demonstrations of a 19th-century machine shop, steam engine and gunpowder mill. Hagley, which comprises 235 acres of woodlands along the Brandywine River, is a National Historic Landmark and a Smithsonian Affiliate.
Longwood Gardens Kennett Square, Pennsylvania
Pierre S. du Pont, established Longwood Gardens in 1906 when he bought an arboretum, once owned by William Penn, to save its trees from a lumber mill. Today, Longwood encompasses more than 1,000 acres, including gardens the industrialist himself designed, as well as meadows and woodlands that form a quintessential Brandywine landscape. Four hundred acres are open to the public, ranging from an Italian Water Garden to a topiary garden, in addition to annual exhibits in its four-acre Conservatory, like "Orchid Extravaganza." Its spectacular Main Fountain Garden is a beautiful spectacle with daily dancing fountain performances. At night when the sun goes down the fountains come alive with brilliant lights and even fire floating atop water. Longwood continues Pierre S. du Pont's tradition of hosting performances of theater, dance and music. Don't miss Longwood's 10,010-pipe Aeolian organ and related museum. One of its three treehouses, the Canopy Cathedral, was featured on Animal Planet's "Treehouse Masters," and designed by show host Pete Nelson.
Longwood gardens
Brandywine River Museum of Art
Chadds Ford, Pennsylvania
Several du Pont family members founded this museum. Inside, you'll find works by the three famous Wyeth artists, plus the National Historic Landmark house and studio of N.C. Wyeth as well as the studio of his son Andrew Wyeth. The museum is in a Civil War-era mill on 18 wooded acres that N.C. bought with proceeds from his illustrations for "Treasure Island," one of many classic books he illustrated. Andrew Wyeth, best-known for his iconic "Christina's World," painted here for almost 70 years.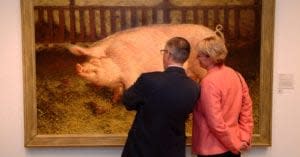 Brandywine River Museum of Art
Brandywine Battlefield Historic Site Chadds Ford, Pennsylvania
Brandywine Battlefield Historic SiteChadds Ford, Pennsylvania At the September 1777 Battle of Brandywine, George Washington and about 11,000 American revolutionary forces fought valiantly but unsuccessfully to stop British troops from advancing to Philadelphia. This important Revolutionary War site on the Brandywine River banks also featured key allies Generals Lafayette and Pulaski, and is a top draw for history buffs.