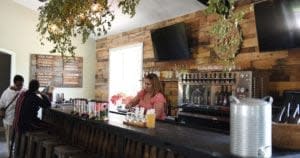 Article by the Pennsylvania Winery Association
Success brings its own challenges. After nearly two decades of making wine and attracting big crowds, Paradocx Vineyard needed more space. The Chester County winery undertook an ambitious expansion to accommodate the growing number of folks who stop by to sip, chat, and shop.
---
Instead of just renovating the existing tasting room, the ownership team decided to build a second level on top of it. This move more than doubled the square footage and also created a prime overlook across the vines. With The Stave at Paradocx Vineyard, the winery now has the ability to welcome more guests and to host private events without impacting walk-in traffic.
"There have already been Saturdays where we have so many visitors that we have had to use the upstairs and the downstairs," says General Manager Trish Brown. "This is a fantastic challenge to have."
Brown has been with Paradocx Vineyard for three years, and when she interviewed for the job, construction permits were already in the works. The winery is owned by two husband-and-wife teams, and all four are equal partners. Each owner had something to offer in the design process.
"All four of them have incredibly different tastes and visions," says Brown. "You're dealing with four different styles and also trying to figure out what the Paradocx family —  which is how we describe staff and patrons of Paradocx — needs and expects. And then how can we go one step beyond?"
The completed space blends traditional elements, farmhouse touches, and industrial chic. The vaulted ceiling is accented by wooden beams. The space is lit by both a flood of natural light from patio doors and large windows and industrial light fixtures featuring caged bulbs. Alice James, mother of co-owner Carol Hoffman, who creates all of the artwork for the Paradox wine labels, contributed pieces for the new tasting room.